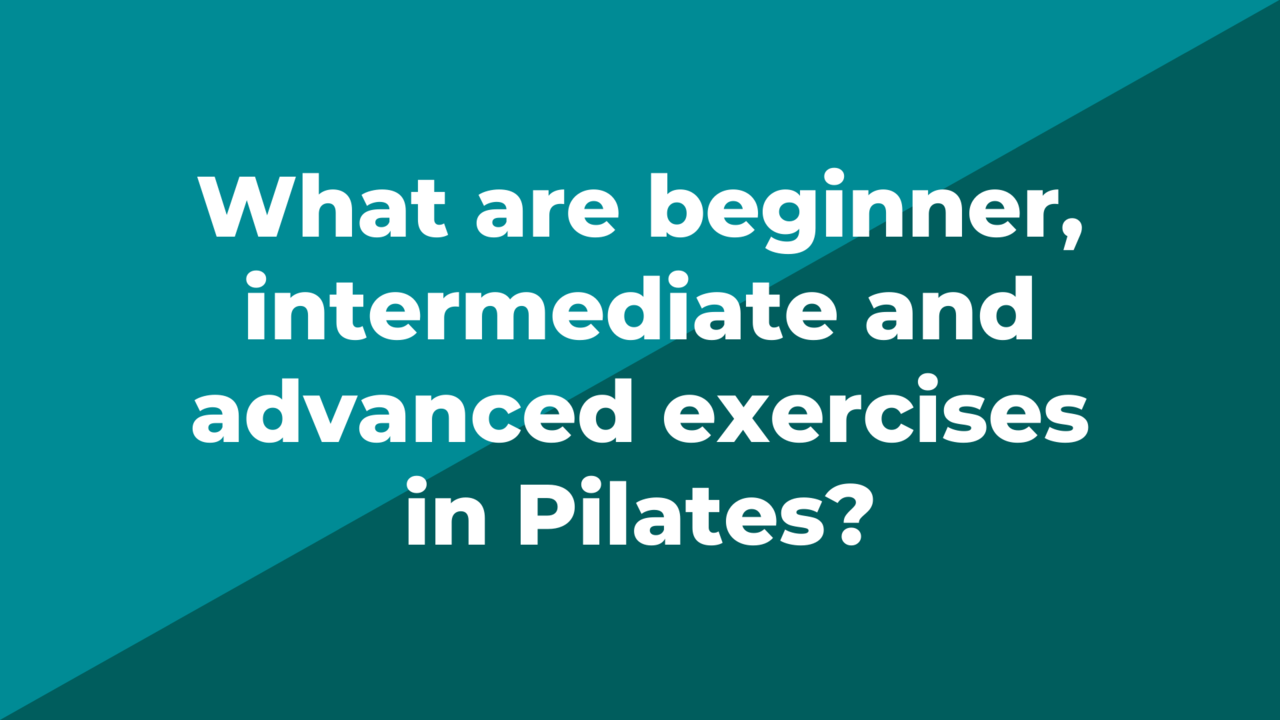 What are Beginner, Intermediate, and Advanced Exercises in Pilates?
Mar 17, 2021
As part of your teacher training program you might or might not have divided the Pilates repertoire into beginner, intermediate, and advanced level exercises. Grouping exercises into these categories can be helpful for new teachers. It gives you a guideline regarding which exercises might be too easy, too hard, or just right for your student.
But what determines whether a Pilates exercise is considered beginner, intermediate, or advanced? Here are a few things to consider:
How many joints are moving? Exercises that require multiple joints to move are more challenging. For example, picture Tricep Extensions in the Supine Arm Series on the Reformer. Only the elbows are bending and straightening. Now think about how many joints are involved in Coordination. The head, neck, and shoulders curl up, the knees straighten and bend, the hips abduct and adduct. Whew, way harder!!
Does the exercise include short or long levers? Toe Taps load the hip joint and lumbar stability moderately via a short lever (knees are bent), but Double Straight Leg Stretch loads those same areas much more intensely via a long lever. To make DSLS easier, you could bend your knees and lower and lift your legs that way.
Is the choreography simple or complex? The perfect example for this is, of course, Coordination on the Reformer, also Short Spine or the Rowing Series. How long did it take you to remember the flow of those exercises?
How many movement directions or planes of movement? In Single Leg Stretch, for example, all joints move on the sagittal plane (thoracic flexion, hip flexion, knee flexion), but Criss Cross move on two different planes, the sagittal like SLS, but the rotation of the upper torso adds the rotational (transverse) plane to the mix.
I've put together lists of mat, Reformer, Trapeze Table, Chair, Ladder Barrel, and Spine Corrector exercises divided by these levels:
Fundamental
Intermediate
Advanced
Keep in mind that there are many exceptions to this guideline. Someone who might have practiced Pilates for a long time might still struggle with fundamental exercises or movement skills. On the other hand, a dancer or athlete might be able to perform advanced repertoire right from the start. Use the lists below as a general guideline to help you decide where to start with your students.
Pilates Mat Exercises
Fundamental/Beginner Pilates Mat Exercises
Chest Lift
Leg Slides
Marching
Knee Folds
Table Top
Pelvic Clocks
Bridging
Bent Knee Opening
Arm Arcs
Dead Bugs
Hundred
Side Balance
Side Kicks
Clams
Book Opening
Dart
Prone Arm Clock
C-Curve
Assisted Roll Up
Cat + Cow
Knee Hover
Opposite Arm and Leg Reach
Standing Posture
One Leg Balance
Heel Raise
Knee Bend
Calf Stretch
Intermediate Pilates Mat Exercises
Stomach Series:
Single Leg Stretch
Double Leg Stretch
Single Straight Leg Stretch
Double Straight Leg Stretch
Criss Cross
Side to Side
Mermaid
Side Lift on Elbow
Swimming
Baby Swan
Swan
Single Leg Kicks
Rolling Like a Ball
Open Leg Rocker
The Roll Up
Back Control
Leg Pull (Up)
Front Control
Leg Pull (Front)
Side Plank
Kneeling Side Kick
The Z
Advanced Pilates Mat Exercises
Roll Over
Corkscrew
Jackknife
Scissors + Bicycle in the Air
Control Balance
Grasshopper
Heel Beats
Scarecrow
Double Leg Kicks
Swan Dive
Rocking
Seal Puppy
Crab
Teaser
Boomerang
Neck Pull
Hip Twist
Side Bend
Star
Twist (Advanced Mermaid)
Push-Up Flow
Reformer
Fundamental/Beginner Reformer Exercises
Footwork
Supine Arms
Supine Abs
Feet in Straps
Sleeper
Overhead Press
Swan Facing Front
Pulling Straps
Seated Footwork
Roll Down
Reverse Abdominals
Side Splits
Scooter
Eve's Lunge
Standing Hip Stretch
Intermediate Reformer Exercises
Bridging
Jumping
Short Spine
Long Spine
Quadruped
Short Box Series
Stomach Massage
Mermaid
Kneeling Arms Facing Back
Kneeling Arms Facing Front
Kneeling Arms Facing Side
Knee Stretch
Down Stretch
Long Stretch
Inverted V + Arabesque
Up Stretch
Elephant
Jackrabbit
Front + Russian Splits
Advanced Reformer Exercises
Semi-Circle
Backstroke
Swan Facing Back
Breaststroke
Teaser
Rowing Front
Rowing Back
Long Back Stretch
Front Control
Back Control
Tendon Stretch + Gymnast
Trapeze Table/Tower
Fundamental/Beginner Trapeze Table/Tower Exercises
90/90
Breathing
Supine Scap Series
Teaser
Footwork
Supine Leg Springs
Side-lying Leg Springs
Prone Arm Springs
Roll Down
Seated Pull Down
Seated Push Through
Circumduction
Thigh Stretch
Standing Leg Springs
Intermediate Trapeze Table/Tower Exercises
Tower
Monkey
Parakeet
Pelvic Press
Hip Extension
Hip Opener
Spread Eagle
Hanging
Standing Arm Springs Facing Out
Standing Arm Springs Facing In
Squats
Advanced Trapeze Table/Tower Exercises
Magician
Semi-Circle
Dolphin
Swan
Chair
Fundamental/Beginner Chair Exercises
Lying Flat
Footwork
Mermaid
Side Balance
Seated Triceps Press
Hamstring 1
Standing Leg Pump
Standing Ankle Pump
Intermediate Chair Exercises
Teaser From Floor
Swan From Floor
Prone Scap Series
Swan on Top
Reverse Swan + Teaser
Cat
Side Pull Up
Hamstring 2
Hamstring 3
Frogs Facing Out
Press Up With Handles
Advanced Chair Exercises
Tendon Stretch
Forward Lunges
Side Lunges
Piano Lesson
Ladder Barrel
Fundamental/Beginner Ladder Barrel Exercises
Leg Stretches
Horseback
Dart
Short Box
Standing Back Bend
Side Sit up Basic
Intermediate Ladder Barrel Exercises
Semi-Circle (Bridging)
Side Dangling
Side Over
Side Sit up Advanced
Swimming Grasshopper
Swan
Advanced Ladder Barrel Exercises
Swan Dive
Leg Series
Roll Over Shoulderstand
Spine Corrector
Fundamental/Beginner Spine Corrector Exercises
Bridging
Chest Lift
Hundred
Seated Back Bend
Roll Down
Leg Series
Roll Over
Corkscrew
Side Sit up
Side Kicks
Mermaid
Intermediate Spine Corrector Exercises
Reach
Stomach Series
Single Leg Stretch Double Leg Stretch Single Straight Leg Stretch
Scissors
Criss Cross
Side Over
Dart
Seesaw
Balance Point
Back Control + Leg Pull
Front Control + Leg Pull Front
Advanced Spine Corrector Exercises
Teaser
Swimming
Swan Dive
Grasshopper
These lists are available in a printable PDF as well. Just click below to download.
If you need help with any of the exercises, the Pilates Encyclopedia membership has tutorial videos, detailed descriptions, and teaching tips for each exercise. We also have a whole section on Class Planning designed to help you put together new class plans in minutes.
Want more Pilates tutorials with detailed cues and teaching tips?
It's all inside Pilates Encyclopedia Member Library!
Get Access